Who Is An Ophthalmologist? How To Choose The Best Ophthalmologist For Your Eyes?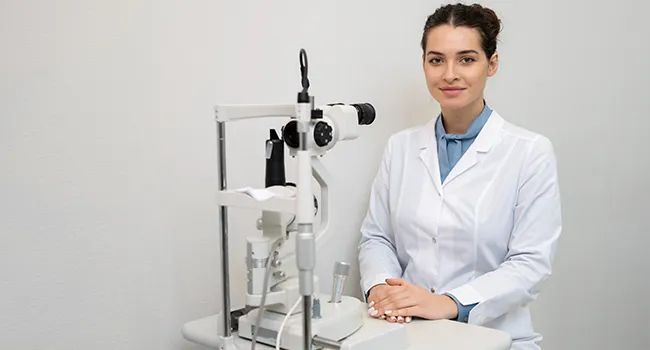 The eyes are one of the essential sensory organs and a vital part of your health. Most people rely on their eyes to view and understand their surroundings. However, one might require an eye ophthalmologist or a doctor at least once, either because of aging, an accident, or a disease. The greatest method to minimize the possibility of irreversible eye damage and vision loss is to visit an ophthalmologist for proper diagnosis or preventive eye care.
Who is an Ophthalmologist?
An ophthalmologist is a doctor who specializes in treating eye conditions by providing eye exams, making diagnoses, writing prescriptions, performing surgeries, and treating eye disorders. An eye doctor/ specialist can also write prescriptions for contact lenses and spectacles.
Eye problems typically take a long time to manifest symptoms and grow slowly. As a result, eye diseases develop over time due to delayed diagnosis and treatment, which results in vision loss. Depending on your eyes' health, you should visit an eye doctor specialist every six months.
When to visit the best ophthalmologist?
Some of the most common signs which indicate that you need an Ophthalmologist –
Blurry vision
Distorted vision
Misaligned or bulging eyes
Hereditary ocular problems
Red eyes
Glaucoma
Difficulty in identifying color
Pain in the eyes
Eye problems are also more likely to develop in people with certain health conditions, such as thyroid, diabetes, and high blood pressure.
5 major tips to choose the best eye specialist for eye treatment
You can keep your eyes healthy by contacting the correct eye ophthalmologist. Here are some suggestions to help you select the best eye specialist to address your vision issues. Here are a few key points to remember.
Ophthalmologist's experience
First, you might look at the quantity and quality of the eye doctor's prior professional expertise. When it comes to eye care, it is imperative to check the ophthalmologist's level of knowledge. So, inquire about how many years an eye doctor has worked in their particular field. Additionally, be aware of the degree of his success in handling the situations. This will give you an idea of the ophthalmologist's skill level and the type of care you can expect. Experience is important in deciding the level of work credibility.
Qualifications
An ophthalmologist should have a postgraduate degree in ophthalmology and typically hold a senior residency or fellowship in their area of sub-specialization. Additionally, they must possess the necessary training to examine, identify, and treat major eye problems with eye surgery. Therefore, you should confirm that the eye doctor has the necessary training to identify and treat eye issues. Make sure the ophthalmologist has no history of malpractice or disciplinary measures taken against them.
Get referrals
Before scheduling a visit with an eye doctor, seek a recommendation from a reputable medical expert. They may be familiar with one another professionally. You should be aware that there are numerous distinct ophthalmology subspecialties, such as those that focus on treating glaucoma, cornea disorders, and retina diseases. Ask friends and family members if they have undergone a similar treatment that you are looking for. Make a list of the top eye doctors and surgeons, such as an ophthalmic surgeon, a pediatric ophthalmologist, a neuro-ophthalmologist, or a vitreoretinal surgeon, and do some study on their backgrounds.
Patient's testimony
Consider reading reviews of the doctor from previous patients. How do hospital staff members respond when treating patients? Are the medical staff's actions and hospital care reliable? How effective is the hospital's system for scheduling appointments, describing the steps involved, and following up after treatment? Patients' experiences with appointment scheduling, wait times, office ambiance, and staff friendliness are frequently reflected in patient ratings. By talking to patients, you can find out how much they trust the doctor, how much time they spend together, and how well they respond to queries.
Research more about the eye care hospital
Hospitals with a good reputation are known to offer superior care. Do some research on the hospital's care quality, amenities, treatment quality, and the range of services the specialists offer. Look for the percentage of successful outcomes as well as a few problems. Verify that the hospital has advanced equipment and technology for the comfort of the patients. Ensure the hospital has highly qualified staff and offers the right guidance regarding better treatment options, medical insurance, etc.
Is there any difference between an Ophthalmologist and Optometrist?
Yes, there is a difference between an Ophthalmologist and Optometrist. Ophthalmologists treat eye issues that require surgery. You may need an optometrist if your eyes are in good health and require no surgical procedures. An ophthalmologist can perform surgery to correct the disease when a patient has macular degeneration, cataracts, or glaucoma. When these circumstances exist, it becomes imperative to get medical care from a skilled medical professional.
Why CFS?
CFS aims to provide perfect, clear, and sharp eyesight for everyone who comes to the hospital with eye-related issues. We are a group of medical professionals like pediatric ophthalmologists, neuro-ophthalmologists, and glaucoma specialists who respect the value of eyes and strive to find cures for any issues that can impair your vision. Our vitreo retinal surgeons and ophthalmic surgeons provide medical care using cutting-edge technology, including instruments that are more reliable, secure, less painful, and more effective than conventional methods.

Article: Understanding Lasik Surgery: Before and After | Centre For Sight
Author: CFS Editorial Team | Oct 07 2022 | UPDATED 06:07 IST

*The views expressed here are solely those of the author in his private capacity and do not in any way represent the views of Centre for Sight.