SMILE Treatment: Time to know all about It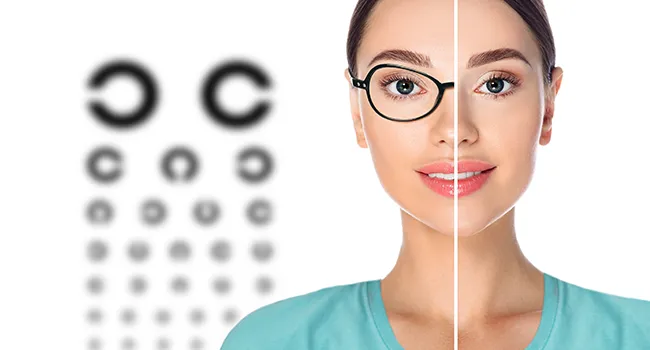 We all know that our eyes are one of the most important and sensitive organs of the human body, and we need to take extra care of them. But like everything else, it is also prone to various issues and diseases. There is no denying that the cases of low eye vision are at their peak at present, thanks to the extensive use of mobiles, laptops, and computers. And with every problem comes a solution to treat the eyes, and SMILE Treatment is one of those solutions. So, today we are going to tell you everything about that treatment, like its benefits and SMILE eye surgery recovery time.
SMILE Treatment: What Do You Mean By It?
Before we move any further, we should first understand what SMILE laser eye surgery is. Do you have any knowledge about this treatment already? Well, you can say that people with severe short-sightedness can have their eyesight corrected using the novel keyhole laser procedure known as SMILE.
Small Incision Lenticule Extraction, or SMILE, is a minimally invasive bladeless surgery. Individuals with or without astigmatism can benefit from SMILE eye surgery, which is a viable replacement for the more well-known LASIK and LASEK procedures.
SMILE Surgery: Before And After
When you decide that you want to get treated by going through SMILE eye surgery, you can't just make a rash decision and go on with it. It would help if you instead take your time thinking and gathering enough information about it first and then decide. Let us talk about who all can have the SMILE Treatment.
Who All Are Fit For A SMILE Eye Treatment?
Always keep in mind that compared to other procedures like LASIK and LASEK, SMILE laser eye surgery is appropriate for a larger spectrum of patients. SMILE may be an excellent option if you've been advised that you aren't a candidate for some other laser eye surgery.
For instance, you may discover that you are not a candidate for LASEK or LASIK therapy, yet SMILE eye treatment may still be a choice if any of the given conditions apply to you:
Your cornea is thinner than the norm
Contact lenses are intolerable to you
Your dry eyes range from mild to moderate
So, once you know that you can go through the SMILE Treatment, you can, without any second thought, get your surgery done so that your eyes can recover soon. 
SMILE Surgery: Recovery Time 
Whenever we go through any kind of surgery, one of the most common questions that arise in our mind is about the recovery time, right? Well, the same is true with SMILE Treatment, so let us talk about the recovery time after SMILE eye surgery.
Trials have shown that following the SMILE therapy, eyesight often improves by 80% within a few hours and by 100% within several weeks. You should be informed that while recovery is swift, there is a potential that your vision may be momentarily somewhat blurry following the procedure. This is very natural, and at CFS, we offer thorough aftercare to put your mind at ease.
It will help if you remember that the SMILE recovery timeline is a quick process that puts you back to your normal self and lifestyle quickly. It will take you around 7 days only, and you can resume your regular activities. The best part is that you can return to work only within a day. Within a week following your surgery, you ought to feel completely better. But, for that, you should adhere to any instructions given to you during your session if you want the best results.
When we talk about ReLex SMILE recovery time, it also refers to visual recovery, and as per our observation, LASIK patients typically adjust to computer-related activities much more quickly than those who had SMILE surgery. We have observed that people having SMILE took a little more time to get accustomed to computer-related jobs while being allowed to use computers shortly afterwards, albeit in little breaks. Regarding recuperation, one should anticipate that both ReLex SMILE and LASIK customers may experience symptoms on the day of the laser surgery.
It is quite common for patients to suffer from water in their eyes and have itchiness or prickliness. Some people also feel their eyelids are heavier than usual and find it difficult to open them normally. If you are a fan of reading, you should keep in mind that there's difficulty reading after SMILE surgery for some time.
Why CFS?
Many of you might still find it challenging to decide whether SMILE eye surgery is a good option for you or not. Well, of course, the only way to know for sure if this is the best line of action for you is to schedule a consultation with a skilled ophthalmic physician at CFS. We have been serving in this industry for a long time and have successfully provided our patients with a positive experience. We have a team of experienced and professional doctors who can provide you with the best SMILE eye treatment.
Article: SMILE Treatment: Time to know all about It
Author: CFS Editorial Team | July 23 2022 | UPDATED 01:07 IST
*The views expressed here are solely those of the author in his private capacity and do not in any way represent the views of Centre for Sight.