World-Class Eye Care Services launched in Ranchi
Centre For Sight
News and Media

World-Class Eye Care Services launched in Ranchi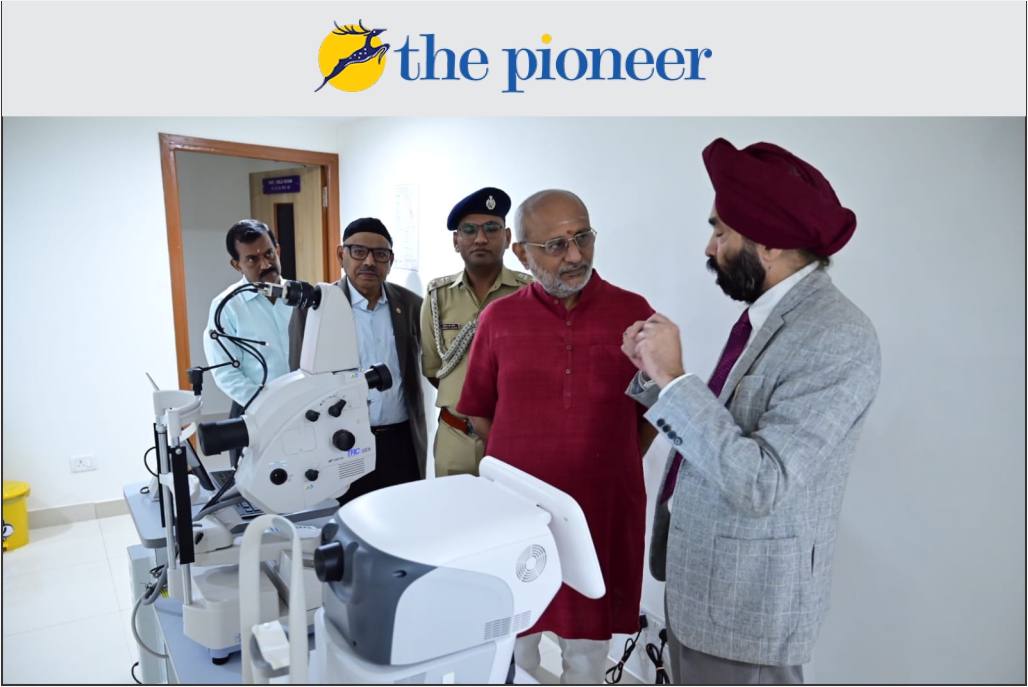 World-Class Eye Care Services launched in Ranchi
Centre for Sight, a renowned eye care hospital known for its cutting-edge technology and trusted team of doctors, proudly announced the launch of its world-class eye care centre in Ranchi. Launch of this new centre aims to provide super-specialized eye care services to the residents of Ranchi and adjoining areas, eliminating the need to travel to metro cities.
The grand inauguration ceremony witnessed the esteemed presence of Shri CP Radhakrishnan, Governor of Jharkhand as Chief Guest among several other notable dignitaries and luminaries from various fields.
Speaking on the occasion, Shri CP Radhakrishnan, Governor of Jharkhand, welcomed Centre For Sight to Ranchi and expressed delight in witnessing the hospital significant advancements in technology, expertise, and infrastructure available to the patients, making it an ideal one-stop eye care destination. He also highlighted the significance of the hospital's opening, marking a new era of eye care in Ranchi and bringing quality and affordable eye care to the region.
Preventable blindness encompasses a range of conditions, including cataracts, refractive errors, glaucoma, and diabetic retinopathy. The good news is that many of these conditions are not only treatable but also preventable through timely intervention and public awareness. Cataracts, for example, can be surgically removed, and vision can be restored, using robotic, bladeless, Laser technology, and with Premium Intra – ocular Lenses. Yet, millions of people in India continue to suffer from this condition, often due to lack of access to healthcare facilities or awareness about available treatments.
Dr. Mahipal Singh Sachdev, Chairman, and Managing Director of Centre For Sight Group of Eye Hospitals, emphasized the mission to bring affordable world-class eye care to every corner of India, as one-third of the world's Visually impaired population resides in India. He stated that at Centre For Sight, they firmly believe that every eye deserves the best, and they are dedicated to serving the people of India with compassion and excellence. Our belief and dedication to the cause of eye health for all has been instrumental in bringing Centre For Sight to Ranchi.
Dr. Mahipal, shared that the Smooth Incision Lenticule Keratomileusis (SILK) procedure offers new hope for myopia patients, allowing them to achieve clear vision without the need for glasses or contact lenses. It is a matter of pride that Indian ophthalmologists have contributed significantly to the development of this latest technology, which is now available at select centres across India.
He added, "At the Centre for Sight, we are proud to have been the first site in the world to perform SILK. This is testimony to the presence of Indian Ophthalmology at the World stage. Most of the early clinical data for this technology has been contributed by Indian Centres including Centre for Sight. We are proud to launch this technology in India and at Centre for Sight."
Dr. Samir Kumar/ Dr Juhi Garg/ Dr Ravish Kumar Zenith, Centre For Sight, Ranchi, expressed delight in partnering with Centre For Sight Group of Eye Hospitals, aiming to provide quality treatment to all patients and establishing a comprehensive eye care destination in the city.
With a network of 75+ locations spanning over 30 cities in India, Centre For Sight now extends its premium eye care services to Ranchi. The centre specializes in providing comprehensive ophthalmic services, from advanced cataract solutions to glaucoma treatment, and a range of complex surgeries, all under one roof. Additionally, the centre will conduct Comprehensive Eye Check-Up camps for the local residents and house an optical wing, CFS Vision, providing complete eyewear solutions.
Equipped with state-of-the-art technology, the centre offers world-class eye care services. The advanced Micro-Incision Cataract Surgery (MICS) with phacoemulsification (phaco) is followed by the implantation of advanced lenses such as trifocal, multifocal, toric, EDOF, and advanced design intraocular lens (IOL). This stitchless, bloodless, and painless procedure ensures quick healing and post-operative recovery.
The group is actively involved in research and innovation in the field of eye care. Their commitment to advancing knowledge in ophthalmology has led to the development of new surgical techniques, treatments, and technologies that benefit patients worldwide. Spread over 10,000 sq ft., the centre boasts five consultation chambers and state-of-the-art modular operation theatres, providing a seamless and technologically advanced eye care experience.
Source: https://www.dailypioneer.com/2023/state-editions/world-class-eye-care-services-launched-in-ranchi.html
Posted By:
Centre For Sight