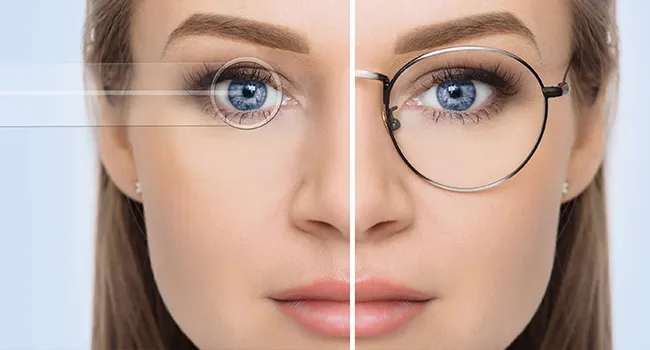 With the advancement in technology, there are several eye treatments available now. One of the solutions for varied eye problems is surgery. When eye surgeries were introduced, people were afraid to have one since eyes are argumentatively the most important sensory organ. Even today, the feeling persists. However, with SMILE laser eye surgery, there is no need to worry about anything.
SMILE is an innovative form of keyhole laser eye surgery that helps correct vision for people suffering from high degrees of short-sightedness. SMILE stands for Small Incision Lenticule Extraction and is a bladeless procedure that happens to be minimally invasive. SMILE eye surgery is suitable for both, people suffering from and not suffering from astigmatism.
The Procedure
To start, the surgeon administers anesthetic eye drops to numb the eye, which ensures that the treatment is completely painless.
Next, the laser(which happens to be based on a Noble prize-winning technology) is used for placing pulses on the cornea's centre with extraordinary precision.
The pulses coming out from the laser then create tiny bubbles, which are in microns. These bubbles are used to create the outline for the tissue that has to be removed.
The laser creates a small connecting tunnel that makes it possible for the surgeons to draw out the tissue. As a result, the shape of the cornea changes, which in turn helps to improve your vision.
While the process may sound complicated to the uninitiated, and one may worry about the duration of the surgery, the pleasantly shocking fact is that the entire procedure is completed in just a few minutes for both eyes, with the laser only being used for a small proportion of the time.
Precautions Commonly Needed After Smile Surgery.
Someone needs to drive the patient home after surgery, as people are not in a position to do the same.
After reaching home, the ideal proposition is to take a nap or relax for the rest of the day.
Eye-drop medicine, as prescribed by eye surgeons, should be meticulously used.
The vision may be blurry right after undergoing SMILE surgery. As the eyes heal over the next few days and weeks, the vision will gradually improve.
People can do most of the regular activities after a day or two. Avoid getting water in your eyes for a few days.
After the SMILE treatment, human vision is typically 80% better within a few hours and reaches the maximum level within a few weeks. One minor thing that one needs to be aware of is that, while recovery is quick, in a few instances, the vision will temporarily be slightly blurred after the operation. This is completely normal, and the experts at Center for Sight are available to deal with such minor inconveniences in a comprehensive manner.
Reasons to Choose Smile Surgery
SMILE is based on a Nobel Prize-winning technology – Nobel Prize in Physics 2018
No risk of flap-related issues as it is a flapless procedure.
SMILE is really quick to perform. The total treatment time usually lasts for 20-30 minutes.
SMILE is a minimally invasive form of laser eye surgery, which means that more number of people are suitable for undergoing this SMILE eye treatment when compared with LASIK and LASEK. This is an important benefit for those who are unsuitable for other types of surgery.
Patients are less likely to experience dry eyes after SMILE surgery than LASIK surgery.
It is more precise and stable.
Why Choose Centre For Sight For A Smile Surgery?
We have been awarded for excellence in eye care and vision correction, and carry an experience of over 24 Years. With a team of 145+ Qualified Doctors spread across 25 Cities and 44 Centers, we have served around 6.5 lac Happy Patients till date and are equipped with state of the art facilities.
For more, visit the nearest branch of Centre For Sight or reach us via call. Our experts will guide you through the process because we believe that every eye deserves the best.
Article: Smile Surgery: A Primer
Author: CFS Editorial Team | Nov 27 2020 | UPDATED 03:15 IST
*The views expressed here are solely those of the author in his private capacity and do not in any way represent the views of Centre for Sight.