Looking for an eye specialist in India? You have reached the right place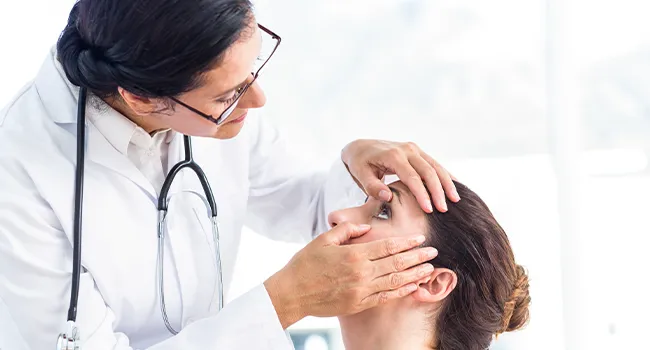 Healthy eyes are essential to overall physical health since people depend on their vision for seeing and making sense of the happenings around them. But as we age, our senses begin to numb, and as it happens with every other faculty at our disposal, our eyes start getting affected. Several ocular diseases such as refractive errors, which include myopia (near-sightedness), hyperopia (farsightedness), astigmatism (distorted vision at all distances), and presbyopia begin to crop up. Apart from that, several other issues like age-related Macular Degeneration, Cataract, Glaucoma, Diabetic Retinopathy, etc. may start to impact the eyes too.
The fact there are various medical treatments available for restoring vision from eyeglasses to a SMILE Surgery all point to the fact that healthy eyes are a vital component of a healthy body. This also points out the fact that people need expert eye doctors to take care of their vision.
Why Centre for Sight for your eyes?
If you are looking for expert eye care, come to Centre for Sight where we have some of the country's leading eye specialists and the latest eye-care technology at your disposal. At Center for Sight, you are at the centre of world-class treatment related to eyes. We have been serving over 650000 happy patients yearly through our 44+ eye care centres spread across India and offer world-class treatments like:
SMILE Eye surgery for vision correction –
Centre for Sight takes immense pride in the fact that we are the first in India to perform SMILE and Lasik surgery. We are also known for performing maximum numbers of SMILE eye surgeries in India.
Lasik and Refractive Surgery –
You can choose a world with a glass-free, clear vision and get rid of refractive errors such as Myopia (Nearsightedness), Hyperopia (Farsightedness), Astigmatism, and Presbyopia. Using the latest FDA approved technology, we offer advanced treatments like Femto laser eye surgery (bladeless Lasik) and SMILE laser eye surgery.
We are the pioneers of modern bladeless robotic cataract and pioneers of advanced laser systems called Femto cataract surgery in India. All Centre for Sight branches across India are equipped with the latest state of the art machines and equipment. Not just that, we have a team of highly experienced surgeons who have handled the most complicated case scenarios. We are also well equipped with diagnostics for advanced premium and the latest intraocular lens technologies.
Retina and Uvea Services –
CFS offers advanced retinal disorder treatments like vitreoretinal surgeries, retinal detachment treatment (retinal tear treatment), diabetic retinopathy management, laser retina treatment, and treatment for age-related macular degeneration, and uveitis.
Our experts have performed multiple successful surgeries for corneal disorders such as Keratoconus, Corneal Ulcers, Corneal Infections, Corneal Inflammations, Corneal Dystrophies, Corneal Cancers, Dry Eye, and Trauma. Types of cornea transplant surgery available at Centre for Sight include Penetrating Keratoplasty (PK), Anterior Lamellar Keratoplasty (ALK, DALK), and Endothelial Keratoplasty (DSAEK, DMEK, PDEK). We also perform corneal transplant procedures on an outpatient basis.
At Centre for Sight, we detect, treat, and provide surgical management of glaucoma. Our specialists follow a three-pronged approach consisting of medications, laser, and surgery for giving people the best glaucoma treatment.
We at CFS are fully equipped to treat any visual problems that are related to the nervous system. Equipped with state of the art electrophysiology machines (Visual evoked potential-VEP, Electroretinogram-ERG), you can be rest assured that you will get an unmatched treatment for any neurological problems associated with eyes at Centre for Sight.
Pediatric Ophthalmology and Strabismus (Squint) treatment –
Centre for Sight understands the importance of child eye care and has a team of expert pediatric ophthalmologists on board. We offer treatment for various eye ailments that affect children. A few of them include Infections like conjunctivitis, strabismus or squint eye treatment (squint surgery), blocked tear ducts, and ptosis.
Centre for Sight has joined the war against corneal blindness and has set up an eye bank at Preet Vihar, New Delhi for people wanting to donate their eyes for the betterment of society.
To know more about our offerings, visit the nearest Centre for Sight branch, or give us a call. Our experts will be happy to help you out.
Article: Looking for an eye specialist in India? You have reached the right place
Author: CFS Editorial Team | Sept 18 2020 | UPDATED 03:20 IST
*The views expressed here are solely those of the author in his private capacity and do not in any way represent the views of Centre for Sight.