Eye care during COVID 19: Simple steps to prevent foggy glasses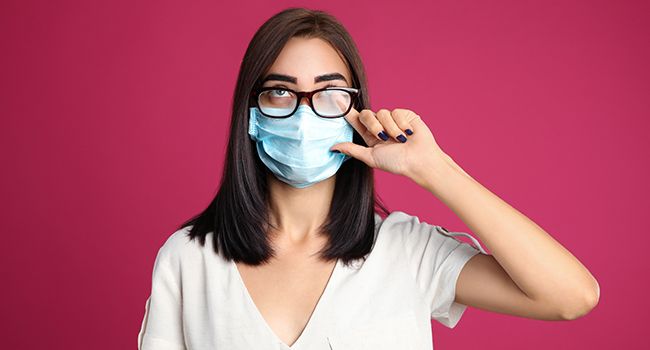 We are living in the times of COVID-19. Work from home, wearing masks, gloves, and maintaining social distance has become the new normal. While some of us have started stepping out of our homes for work and other purposes, wearing masks has become a mandatory thing. But, with it, we also wear eyeglasses or sunglasses to see clearly and protect our eyes from harmful sun rays. Eye care during COVID is essential.
Now, most of us have to put these two things and make them work together to juggle between the chores and run through the day. It is a challenge. What's the worst part? We have to wipe off our glasses every now and then because they keep getting foggy. But, the good news is, problems associated with foggy glasses can be eliminated.
In this blog, we will tell you how you can avoid your glasses from fogging up.
Why do eyeglasses get foggy?
Did you know why your eyeglasses keep getting foggy? It is so because when you exhale, your warm breath escapes from the masks and hits the lenses of the glasses. This makes your eyewear foggy prompting you to clean them up.
Eye care during COVID 19: What can I do to avoid foggy glasses?
There are many ways through which you can do your bit in preventing glasses and face mask from fogging up, like:
Anti-fog lenses can be your way out:
You can consider buying lenses with anti-fog coating on it. The coating reduces the condensation of moisture that leads to fogging.
Lens scrubbing with soap and water
We understand that eyeglasses are a major investment. We buy it after putting much thought into it about the colour and style of the frame, lenses, etc. Washing your lenses with soapy water shakes off the excess moisture. You can simply air-dry it or wipe them with a soft cotton cloth. This process leaves a thin film over the lenses preventing it from outdoor elements like dust, fog, etc.
Choose the 'right fit' for your mask
Here's the tip. If you wish to prevent your eyeglasses from fogging up, then you should lookout for a mask that fits your face properly. Go for a mask with a nose bridge. It fits your nose and covers your face in a way that exhaled air does not exit up to your lenses.
Whenever you are about to wear your mask, make sure you pull it a bit higher. Allow the weight of your eyeglasses to block the flow of air from the masks. This can be best done with large and thick frames. A secure fit seals air to exit from the top of the mask and allows it to go from somewhere else.
You can also tape your masks to prevent fogging up your eyeglasses. For this, you can use medical, adhesive, or athletic tape and tape it across your cheeks and bridge of the nose. Do not use duct tape for this purpose. Before doing this, test the tape on a different part of the body to ensure that it suits you and does not irritate your skin.
There are anti-fog solutions available in the market that work well with limited coatings, like anti-smudge, anti-glare. It is vital to read about the product, carefully delve deeper into the product reviews, then come to a conclusion about buying.
Centre For Sight houses trained and experience-driven eye specialists who are well-versed with the complexities and correct ways to deal with eye-related disorders. By adopting various surgical and non-surgical methods, surgeons at CFS try to give the best possible eye care to the patients. We specialize in various fields like Cornea Services, Ocular Surface & Dry Eyes Disorders, Computer Vision Syndrome, Paediatric Ophthalmology & Squint, Cataract, and Glaucoma services. Eye care during COVID 19 has become essential. Visit us for a comprehensive check-up, in case you feel eyes irritation, redness, etc.
Article: Eye care during COVID 19: Simple steps to prevent foggy glasses
Author: CFS Editorial Team | Jun 20, 2020 | UPDATED 01:19 IST
*The views expressed here are solely those of the author in his private capacity and do not in any way represent the views of Centre for Sight.